Two years ago I had my very last from-the-drive-thru Shamrock Shake.
And it was awful.
I wasn't even that far along on my real food journey… and already all I could taste was the nasty chemicals and artificial ingredients. Yuck!
It was sad; I thought that my favorite Welcome Spring treat was gone forever. But it was safely out of my head, along with M&Ms, Girl Scout Cookies, and Tater Tot Casserole.
Now, however, with St. Patrick's Day right around the corner, Pintrest is peppered with variations of the infamous Shamrock Shake. It seems like every blogger has a Shamrock Shake recipe–some of them are beautiful confections with spray can whipped cream and rainbow sprinkles, and some that use vegetables to make them green.
Mine, believe it or not, is Vegan.
Shamrock Shake
Makes 2-3 servings
Preparation:
Peel and freeze 3 bananas, the more overripe the better
Chill 1 can of coconut milk — I use this kind because it's verified GMO free, and also because it is so thick and wonderful that you can eat it with a spoon. (Yes, I know this for a fact!)
When you're ready to make the shake:
Blend the bananas in blender. Add the coconut milk and 1/2 of an avocado (peeled, with the pit removed) and blend until smooth and creamy.
Add 1/2 to 1 1/2 teaspoons of peppermint extract, to taste
Test for sweetness and add 1-3 teaspoons of maple syrup, as necessary
(In a very unusual turn of events, my Sweet Tooth and I felt that additional sweetener was unnecessary; it was my husband who insisted on the maple syrup!)
If desired, garnish with mini chocolate chips (like these)
And there you have it: A healthy springtime treat. (Which is actually more green in person than it is in any of these pictures!)
Enjoy!
This post has been featured by Urban Naturale.
This post has also been

featured

by My Lamp is Full on Real Food Fridays..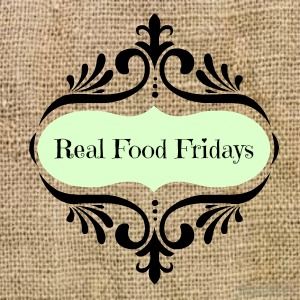 And by Karen Lynn of Lil' Suburban Homestead for the From the Farm Blog Hop.
If you like this post, please share it!
This post has been shared at the Healthy, Happy, Green & Natural Blog Party Hop, Tuesdays with a Twist, The Backyard Farming Connection, Hearth & Soul, the MaMade Blog Hop, and List-it Tuesdays. And at Frugal Days, Sustainable Ways and The HomeAcre Hop.
And Simply Natural Saturdays, Savoring Saturdays, the Weekend Wholefood Blender Party, Meal Planning Monday, Thank Goodness It's Monday, Mostly Homemade Mondays, Natural Living Monday, and the Homestead Barn Hop. And Fat Tuesday, Tuesdays Table, and The Gathering Spot. And Raising Homemakers, Fresh Food Wednesday, Whimsy Wednesday, Real Food Wednesday, and Wellness Wednesday. And Pennywise Platter, Freedom Fridays, Real Food Friday, and Natural Family Friday.
And Simple Saturdays, the Clever Chicks Blog Hop, Simple Life Sunday, and the Sunday Social Blog Hop. And Wildcrafting Wednesday, and the Mountain Woman Rendezvous. And Simple Meals Friday, Farmgirl Friday, Old-Fashioned Friday, Unprocessed Friday, and the From the Farm Blog Hop.
**Note: This post may contain affiliate links, including Amazon.com affiliate links. If you purchase a product through an affiliate link, your costs will be the same but Once Upon a Time in a Bed of Wildflowers will receive a small commission. This helps cover some of the costs for this site. We appreciate your support! **