Happy Friday! And happy From the Farm Blog Hop Day!
And, also Happy Hanukkah, Blessed Yule, Solstice Blessings, Merry Christmas, Joyous Kwanzaa, and Happy New Year! Did I get everyone? If I left out someone's special holiday, I do apologize, and wish you a very happy that, as well! 🙂
In light of all the holidays, though, the From the Farm Blog Hop will be taking next week and the week after OFF and we will see you back here on January 2nd!
And now, I am very pleased to say that I chose How to Make a Homemade Christmas Centerpiece from Faith Filled Food for Moms as my featured post.
The centerpiece is gorgeous. And she has a list of other great centerpiece ideas as well. I had the privilege of having my four-year-old niece with me "helping" to read everyone's posts and choose a favorite. And I must say, that there is one on the list that is especially suited to the kids' table, if you happen to have one.
I bet you can't guess which one was Adorable Niece's favorite! 😉
Now, let's get on with the party, shall we??? This week's favorites:
Loading InLinkz ...
Congratulations! Please feel free to grab our button and display it proudly on your blog!
Keep scrolling to enter this week's party!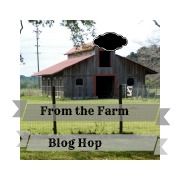 1. Link up to three of your best gardening or homesteading tips, farm-themed posts, recipes, homemaking and simple/frugal living tips, decorating ideas, DIY projects, craft ideas, thrifty makeovers or repurposed items, healthy and sustainable living tips, and giveaways. 2. Link back to my blog (using the rel="nofollow" tag), or put the link party button anywhere on your blog or post to share the love. 3. Make sure to check out some of the other links before leaving.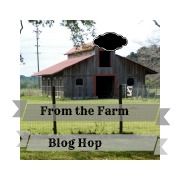 We can't wait to see what you share with us!
Note: Linking up to this party will automatically sign you up for an invite to next week's party via email. To unsubscribe, please reply to any email you receive and you will be removed. Linking up also allows us permission to publish one of your photos on our blogs, Facebook, and/or Pinterest pages.
Warmly, from your From the Farm Blog Hop Co-Hosts:
Heather @ The Homesteading Hippy
Krystyna @ Spring Mountain Living
Karen Lyn @ Lil' Suburban Homestead
Tessa @ The Homestead Lady
Connie@ Urban Overalls
Dawn @ Oh Sweet Mercy
Honey @ Honey's Life
Lee @ Lady Lee's Home
Karen @ Blue Yonder Urban Farms
and
Christine @ Once Upon A Time in A Bed of Wildflowers (that's ME!)
Loading InLinkz ...
My most recent post: